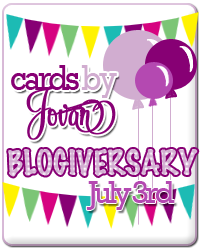 Hello all, Welcome to my Blog Hop Blogivesary!  I'm so excited about this hop!  This is my third year of having this blog, it doesn't feel like it at all.  I love blogging and love all the wonderful people who stop by and leave beautiful comments.  The past three years have been AWESOME.  Lot's and lot's of money spent but worth every penny. Some of you are such enablers...LOL!  
This hop is small I have 5 AMAZING ladies joining me! I just ADORE each and every one of them!  I picked some newer friends and some friends that have followed me since the beginning. I'm the last stop on the hop so I hope you came from the talented
Cindy's
blog. If not you can start at the beginning. 
For my card today I used my favorite lady from Rock Princess.  I use her when ever I want to celebrate something.  I used witch brew crinkled ribbon from 3 Girl JAM. The sentiment is from Pink by Design.   I added some flowers and bling to finish my card. 
Ok, so what is a Blogiversary without some AWESOME giveaways?  I have three  different giveaways for you today.  
First giveaway will go to one person who comments on ALL the blogs in this hop. You will get the Harvest canvas set from 3 Girl JAM and PTI Think Big #16.  I just LOVE these canvas ribbon and the Think big set is PERFECT for Celebrations!  *Remember you MUST comment on all the blogs for this prize*
Second giveaway will go to one person who comments on my blog and is a follower.  
*YOU MUST BE A FOLLOWER for this giveaway* 
You will get 3 Girl JAM Harvest crinkle ribbon bundle and Pink by Design Retirement stamp set.  
Third giveaway and GRAND PRIZE goes to one person that enters the challenge.  Challenge, yes challenge...The challenge is to create a card with a theme of "Celebration" it can be anything you want to celebrate. 
You will have two weeks to enter into the challenge and win everything in the picture.  I will announce all winners on July 17th. 
Thanks so much everyone for 3 GREAT years, I hope to have many more!